When I was getting started, I played several different steels. It helped that Ron, who I mentioned earlier had steel guitars in his store. He let me try a few. I used a Fender 10 string that had 4 pedals (I can't remember what model 1000, I think). I used an Erickson S-10 (from northern Minnesota) for a time, but I wanted to get a guitar of my own. My first steel was an Emmons student model with 3 pedals and 1 knee lever. I played that for about a year. I realized that I was very limited with only 1 knee, so I had to get a guitar that had knee levers. I got a Sho-Bud LDG. I played that for a year, also. I realized again that I was limited. I really wanted to be able to play some of the stuff on that Buddy Emmons record I had. I had to get a double-neck! I got an Emmons D-10 (8x4) from Clem Schmitz at the Pedal Steel Guitar Emporium in Minneapolis, MN. I think I had that guitar about 5 years. When I did finally trade it in on the LeGrande (top right photo), it had 9 pedals and 9 knee levers(that included a "Crawford Cluster".
I played with several bands (The Tim Patterson Show, Billy Joe's Country Show, and Tommy Gene & the Great Lakes Boys).
In 1980, I started with Steve Hall & Southbound '76. Working mainly Minnesota, we were staying busy. One "Crazy Days" sale in Brainerd Steve bought a puppet at a local hobby store. He brought it out to the gig and started using the puppet as our emcee and joke teller. Things took off! We entered a couple of band competitions, won, and got sent to Nashville for the finals (the second time we got to Nashville for the finals is pictured, at the right). The promotion lady for Seagram's at the show, thought our puppet announcer was funny and that he could generate some good free publicity. It was decided that we'd crash Ralph Emery's morning show. We went out to the tv studio for the show. Steve got the puppet out and we all just sat in the audience. Ralph noticed him right away, and before long Steve and the puppet were up on the stage telling Ralph about the Battle of the Bands, telling jokes and singing. It had worked, we got the free publicity. We went about our business and did the Seagram's show (I don't remember where we placed, I think it was 3rd). We got word that Ralph thought that he and the puppet had hit it off well and wanted Steve to call him to possibly do some things with him. Well, that was the beginning. "Shotgun Red" was a sensation. Ralph was involved in a new television network (

) , that was just starting. "Red" became a semi-regular as the comic-relief. The band name changed to "Steve Hall & The Shotgun Red Band". We did shows all over, including working Grand Cayman, and a cruise with the late Conway Twitty. I enjoyed my "tour of duty" with Steve very much!
I came off the road in 1990 and played at a night club called the Iron Rail Saloon for nearly 3 years in the house band.
I then worked for almost 17 years with my brother, Wayne Renn's band opening for many main line artists. Wayne sings most of the songs we do (writes quite a few, too), and plays a variety of instruments, but concentrates mostly on fiddle and guitar. He had a tune on the independent charts called Maniac Needin' Love in 1995.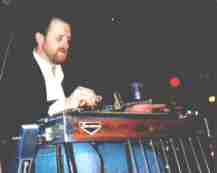 Me playing my Emmons LeGrande in '96
---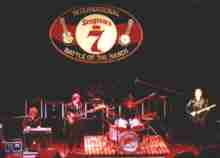 at Seagram's Battle of the Bands
in 1982(?)
---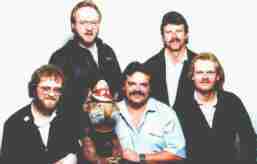 L to R Front row: Me, "Red", Steve Hall, Mark Petersen (my cousin).
Back row: Cal Aultman, and Jim McFarland.
---
Wayne Renn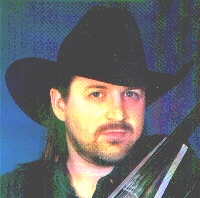 Check out Wayne's CD that features Buddy!
"Maniac"
---