MY EQUIPMENT
---
Steel Guitar
Black '99 Emmons Lashley LeGrande III (8x7)
(It was brand new and my camera was out of focus...)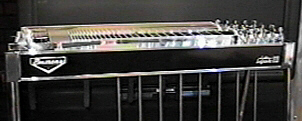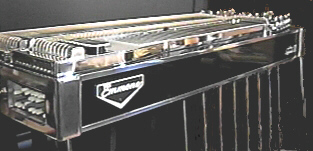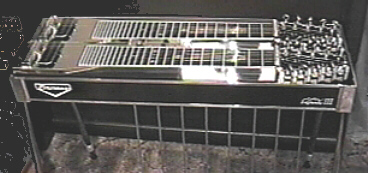 ---
I use a classic Emmons volume pedal with "George L" cables.
(I've also got a Hilton pedal, but don't use it that much.)
---
Electric Guitars
2- Fender Danny Gatton Signature Telecasters




Guitar #1- (Serial # DG0030)
(Danny set-up the action on #1 and signed the back in '92 and the front in '93)





Guitar #2 - (Serial # DG0085)
After Danny's tragic death, I didn't want to take #1 out of the house.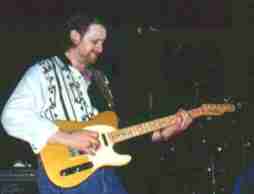 Me playing #2 (I keep alternating pickguards, cream, black,.. black, cream...)
---
Amps
Peavey - Session 400 (early 80's)
Peavey - LTD (older amp from the late 70's)
Peavey Session 400 LTD (mid 80's)
---
Effects (in the rack)
Boss '63 Fender Reverb (Stomp pedal)
Alesis Midiverb III (For delay and chorus)
Digitech IPS-33B (Harmony machine)

---
Other Toys
Goodrich Matchbro - MXR Distortion+ - MXR Dyna Comp - MXR 6 band EQ - E-Bow (RIP)
Hilton Digital Sustain unit Roland SDE 1000 Digital Delay (mono) (Great Delay! I've got two...)
MXR Phase 90 - MXR Envelope Follower - Boss DD3 Delay - Goodrich Matchbox - Boss Over Drive - Boss Blues Driver

(plus a bunch of other stuff too numerous to mention!)
---

BACK

BACK TO "FUN STUFF"

THE REST OF THE STORY
---